Now that you know the basics of the internet and how it works, see part 1, now you can see how this relates to your health information. Most hospitals and doctor's offices have moved away from using paper charting for your health information and have gone electronic. This is often referred to as the EHR or electronic health record. A law called HIPPA was also created to protect such health records and information. As a patient you have rights to that information and to who sees it and uses it, if you want to be contacted by your Dr, and if you need to have the record corrected. Also healthcare corporations and the like, pay fines if the government becomes aware, catches, or finds out that that information has been used incorrectly or an error has been made.
When it comes to online information often people are afraid that their private information can be stolen or misused. HealthIT.gov gives an excellent example on how you are protected
"The HIPAA Security Rule requires that health care providers set up physical, administrative, and technical safeguards to protect your electronic health information. Some safety measures that may be built in to EHR systems include:
"Access controls" like passwords and PIN numbers, to help limit access to your information;

"Encrypting" your stored information. This means your health information cannot be read or understood except by someone who can "decrypt" it, using a special "key" made available only to authorized individuals;

An "audit trail," which records who accessed your information, what changes were made and when."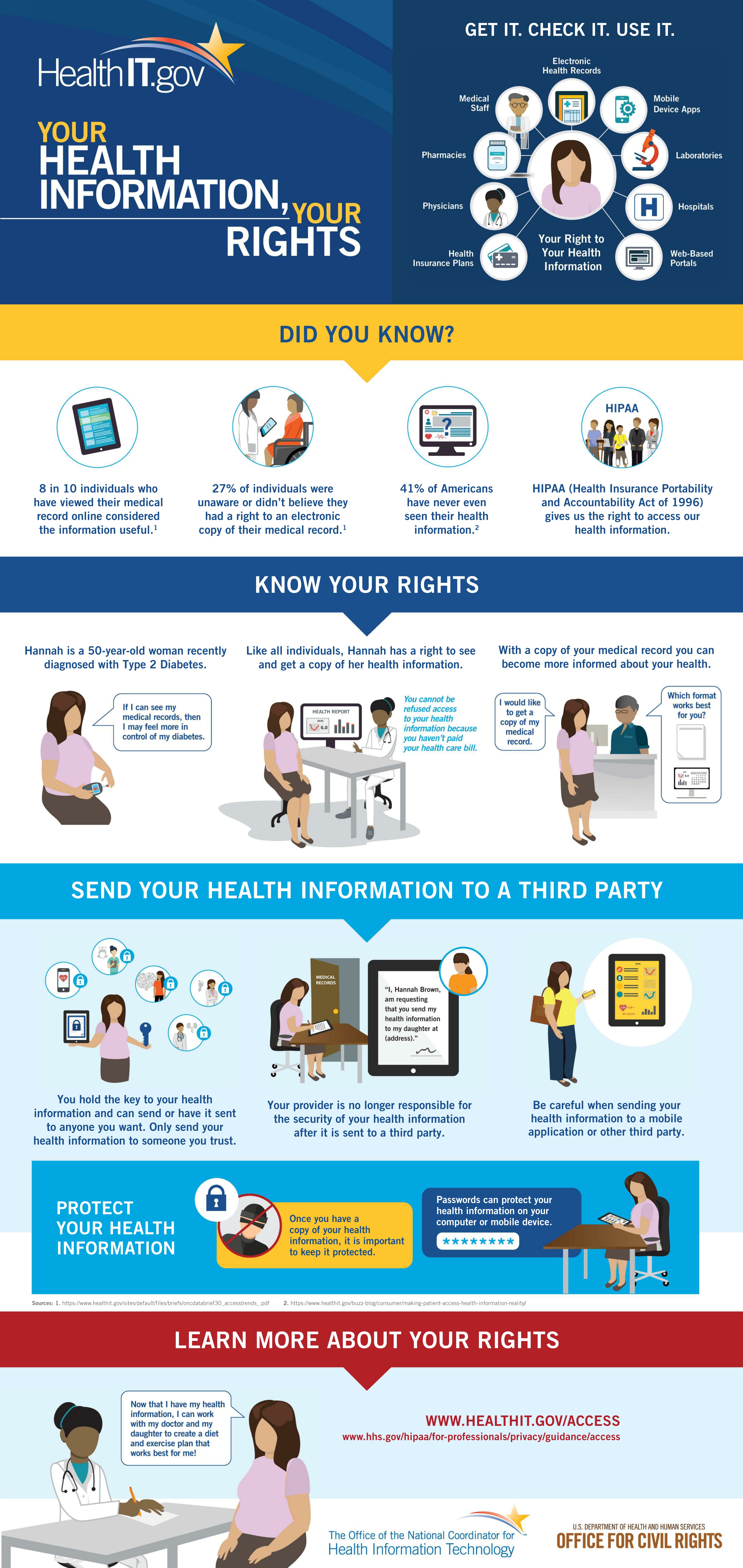 Via https://www.healthit.gov
Important note-The following institutions are NOT subjected to HIPPA laws
Life insurers

Workers compensation carriers

Most schools and school districts

Many state agencies like child protective service agencies

Most law enforcement agencies

Many municipal offices
That doesn't mean information is a free for all, however it is not fully protected either. The list above has exceptions to HIPPA laws that can be accessed at the following website and may be different from state to state.
https://www.hhs.gov/hipaa/for-individuals/guidance-materials-for-consumers/index.html
Lastly there are many pro's to having an EHR, with safety being a top one. If you want to learn more about the pro's of an EHR and how HIPPA keeps your info safe see the link
https://www.hhs.gov/sites/default/files/ocr/privacy/hipaa/understanding/consumers/privacy-security-electronic-records.pdf